Guiding Documents
SAFA Uniform rules and regulations
Guiding and governs all competitions & leagues under SAFA from National down to zones.
FIFA Laws of the game
Guide and rules all the football games, used by referees to officiate games.
WADA for doping
WADA – World Anti-Doping Agency
This is the institution that promotes anti-doping in our sport.
Their responsibility is to make sure that our athletes are not using the substances/ stimulus that are not allowed in sports environment.
Visit google for more information
DSR
Vision and mission to create the winning district, province and nation.
Activity Planning – Planning events
Invite stakeholders
Invite people or businesses that might have the same interest or vision as yours (Football or sport-loving people or business)
Form the local organizing committee (LOC)
Form the local organizing committee (LOC) with portfolios as follows:
Venue
Booking of the venue.
Tent, table & chairs, marking of the field, grass cutting, pole nets and corner flags.
Parking and marshals.
Sponsorship
Identify potential sponsors and approach them as early two months prior the tournament.
It is advisable to meet your potential sponsors in person as well.
Safety, health & security
South African Police Service (SAPS)
Add more security with experience to be more visible on the day.
We must have a full first aid kit and a person who is having knowledge responsible for it.
Communication & Marketing
Communicating with the outer world, like sending invitations and notices.
He or she is the spokesperson of the LOC.
She or he is responsible to market the event.
Water & sanitation
Drinking water
Functioning toilet, if not then hire.
Format & officials
Dealing with fixtures and formats of the tournament (How many teams and what system are they playing?)
How many fields and what size will they be?
How many officials (referees) do we need for the full day?
Tournament
Benefits of a 5 or 7 -aside tournament
A 5 or 7 aside tournament needs small fields, in one big field we can have at least three small fields.
It is played in short minutes, which makes players to change the half before they are getting tired.
There are no off side and penalty rules.
A substituted player can again come back in a same game.
Players get more chance on the ball as they are few in the team.
Knock out vs round robin system
Knock out is not good for development because for example if the team is playing their first game in the morning and they are knocked out, then the day is over for them, they can go home, which is demotivating.
It causes a frustration for coaches and players because the loose is your end in the tournament and you loose confidence in yourself as a team.
In round robin you can lose your first game but you get a chance to go back, regroup and have a good game after a loss.
It gives all teams a chance to paly against each other and more game time, means development because learning takes place.
In most round robin tournament, we have teams playing the same time at the end of the day.
Example of a round robin tournament
                          First Stage of the round robin tournament
Group A
Group B
Group C
Nine teams

3 Groups

15 mins per half

2 games a team

A1
B1
C1
A2
B2
C2
A3
B3
C3
All the teams at the end of this stage they have played 60 minutes
                                          Second and final stage
Winner 1
2nd place gr. 1
3rd place gr.1
Best vs Best
Winner 2
2nd place gr. 2
3rd place gr.2
Med vs Med
Winner 3
2nd place gr.3
3rd place gr.3
Weak vs Weak
1 -3
4 – 6
7 -9
Final Log Table
Festival
A festival is a fun event for kids younger than twelve years of age, both males and females!
The games that are played there are competitive and are suitable to be played by players with and without football background.
It is usually done after a SAFA D Licence Coaching Course is completed or coaches can just plan and do it in order to stimulate the participation amongst young kids.
One hundred kids are needed for this event, ten qualified coaches and equipment.
The organising committee must be formed as follows:
| | | |
| --- | --- | --- |
| Names | Portfolio | Status Update |
| xxxxxxxxxx | Director/ Chairperson | What is the status in which date |
| xxxxxxxxxx | Water & Sanitation(Hired toilets, drinking water) | |
| xxxxxxxxxx | Marketing & media | |
| xxxxxxxxx | Meals (VIP'S & Ordinary) | |
Needs for the festival
100 Balls
200 Markers
Cones
2 pairs of collapsible goals
10 x 10 sets of bibs
Fully equipped first aid bag (one coach must have a basic knowledge for first aid)
Toilet
Water
Meals for participants and coaches
Sound system
Sport Stakeholders
Department of sports and recreation (DSR)
This is a governmental institution that is dealing with sports in South Africa.
They are not coordinating sports but assisting federations with funds to run their programs.
South African Football Association (SAFA)
Is the association that governs football in South Africa, both males and females.
The association is governing from the national level, to provinces, regions, locals & zones.
Website: www.safa.net
Department of Education (DOE)
Schools are also playing sports, which makes them the stakeholder for SAFA.
Schools' tournaments & competitions are coordinated in connection with SAFA structure, yet DOE has its own structure.
District & Local Municipality
Municipalities are government but they are having the budget to support sports programs.
They support the programs where stakeholders are applying for assistance.
Team Management
Constitution

This is the main document used to govern all institutions and associations.
The constitution is only valid once it is endorsed by the council of the institution.

Policies & procedures

Ethics

The team or institution will decide to have its ethics where people are being controlled in their behaviour.
How to conduct yourself or the team in certain situations.

Child Safety

It is our responsibility to protect our athletes, as we are parents in the sporting environment.
Protect them from injuries, abuse and all other bad things that can happen.
The document is supplied by SAFA Coaching Department and available to all coaches doing a SAFA D Licence Coaching Course

Code of conduct

It is a set of rules outlining the social norms, religious rules and responsibilities for an individual within the organization.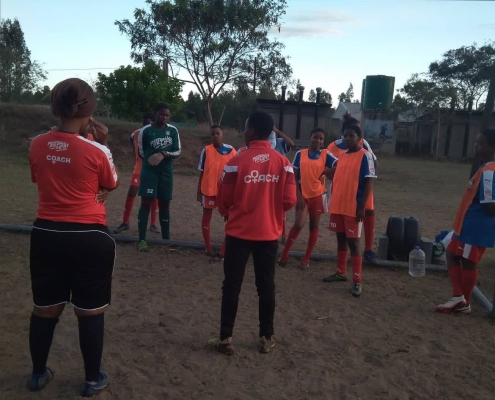 Football Structures
Organization Chart – SAFA Leadership
Organization Leagues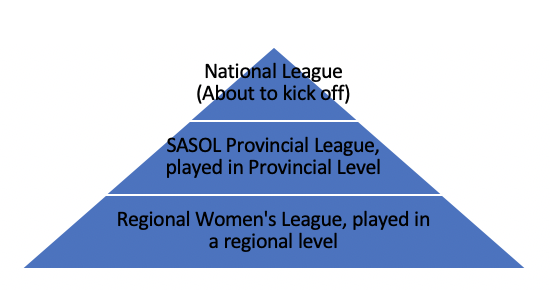 Coaches Development
National Teams

Banyana Banyana – Open age National team
Basestsana – U20 National team
Abantwana – U17 National team